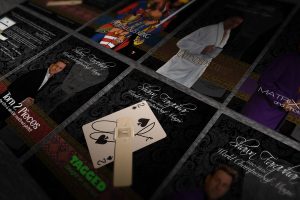 Over the years many people have expressed a desire to perform most of my original magic effects.  I have produced a number of my favourite and have filmed the instructions to help you understand how they work and should be presented.  All my effects and a few others from people I admire are available for sale on my Palmer Magic website.  I bought Palmer Magic as it was a company with a long and valued history.  Palmer Tilden, the former owner, had amassed a wonderful selection of mini miracles from the finest minds in magic.  If you're a professional magician or dream of being one some day, then drop by the shop to see what I have to offer.
Special offer only available
at this website and live performances.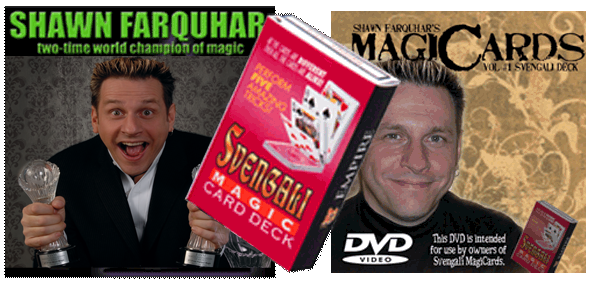 An interactive DVD designed to entertain from 6 – 106 ! Imagine being fooled in your own home by the Magic of Shawn Farquhar. Included on this region free DVD is live footage of "SNOW", "Hannah's Card Trick", "Thread of Life", "Origami", and everybody's favorite "Shape of my Heart". Over half a dozen live video clips from Shawn's show, six incredible magic tricks explained in full details using normal things you will find in your own home and incredible interactive magic effects that will fool you on your own TV screen! Don't forget there is also a huge section on optical illusions and a whole bunch of hidden extras like video footage of Shawn on Japanese TV, news footage of when their home burned down, a family photo of five generations of magicians … and a whole lot more!
These are the exact same cards Shawn gives his young spectators who help on stage. These mechanical cards appear to be normal yet can magically change all to one single card in the blink of an eye. Instructions for six magic effects are included. These cards can be easily used by a child of six or eighty-six!
"Every magicians career begins and ends with a deck of cards" – William Farquhar
This DVD was produced by me as a way to teach you how to do over a dozen awesome effects with the MagiCards. I still perform these card effects in my sleight of hand show every week on cruise ships around the world. If you have bought the MagiCards or are thinking about buying them, then this DVD is for you!
*You NEED a deck of magiCards (svengali) to do any of the effects taught on the DVD.
Just $40.00 and includes FREE shipping worldwide.