Although for the past decade Shawn has been almost exclusively appearing on the luxurious cruise vessels, he does get the opportunity to travel to make personal appearances every once and awhile. Here's just a few recent memorable moments.
Grand West Casino
Cape Town, South Africa
Congresso Brasileiro de Magicos
Sao Paulo, Brazil
JCB World Conference
Honolulu, Hawaii
Galiano Music Theatre
Athens, Greece
International Magic Festival
Macau, China
World Magic Seminar
Las Vegas, Nevada
Super Stars of Magic
Kuala Lumpur, Malaysia
Each of these events listed above were customized presentations designed with their audience in mind. Many of the effects and much of the comedy were created expressly for that particular show. When you want to really excite, enthral and entertain an audience …you want Shawn! After all …it's his job!
"Your connection with audience members of all ages helped to endear your skills as a magician with the sensibilities of the audience but left us wondering just how much CAFFEINE does it take to get ready for your show? "
Gerald Franti – Passenger on MS Norwegian Star
Shawn has had thousands of clients so we have only listed those that have booked Shawn at least three times!
Konica Canada
Toronto Dominion Bank
Ford Motor Ltd.
Royal Bank of Canada
IKON
Air Canada
Microsoft
Holland America Cruises
Disney Cruise line
Panasonic
Canon
General Motors
Canadian Imperial Bank of Commerce
IBM Canada Ltd.
ORMED Information Systems
All State Insurance
New York Life
Norwegian Cruise Line
Royal Caribbean Cruise Line
London Drugs
SHOWS
As a two-time world champion of magic Shawn has an incredible arsenal at his disposal to create your entertainment package. Everything from the small up close style magic to the newest and most advanced illusions you would see in the showrooms of Las Vegas.
"He's the magic equivalent of one of the seven great wonders of the world.
Once you have seen him, you'll never forget Shawn Farquhar."
-Graham Hey, Magic Seen Magazine
A brief description
There are basically two different disciplines of magic. Stage and Close Up. Most magicians will be students of one or the other. Shawn is a master of BOTH. In fact he travels the world to teach other magicians at events like Siegfried and Roy's World Magic Seminar in Las Vegas. When engaging Shawn for your event consider having him doing both the Sleight of Hand and the Stage show.
Sleight of Hand Show
Nothing is more amazing than having the magic happen in your own hands. Every great magician begins and ends their career with a deck of cards. Shawn is no exception. In fact he is the 2009-2012 world champion of cards and the Grand Prix World Champion of Sleight of Hand.
At your event Shawn will mingle among your guests presenting card effects that are unlike anything you have ever seen before. Imagine a deck of cards spilling from his mouth or perhaps turning into a block of glass in your own hands. These are just a couple of Shawn's signature pieces from his Sleight of Hand show.
How does he do it? …it's his job!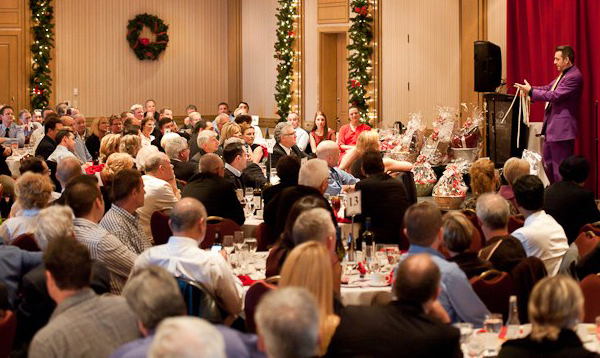 Stage Show
The room will explode with excitement when Shawn takes to the stage. His infectious smile and true love for his job shines through in all that he says and does. You can be assured he will amaze and amuse your guests with many of the routines he has used to win his countless number of awards. The basic show is 45 minutes of interactive magic and comedy. This show can also be upgraded to even feature illusions.
"Having a talented and giving friend like Shawn makes a producers life a lot easier."
R.G. Smith  Exec. Show Producer  Society of American Magicians Convention Shows
"Having booked dozens of magicians on many cruise ships for 20 years, I must say Shawn Farquhar heads my list of the highest Entertainer Evaluation Reports from Cruise Directors. Needless to say, he is also the highest paid."
Ron Wilson  President Emeritus – The Magic Castle
"Everyone needs a Farquhar fix!!"
Kieron Buffery Cruise Director  RCCL Mariner Of the Seas
TV and Motion Pictures
"I think cinema, movies, and magic have always been closely associated.  The very earliest people who made film were magicians."
Francis Ford Coppola
Shawn's magic, ideas and even his illusion props have been used in countless motion pictures and television productions over the past twenty years.  From teaching actors how to perform sleight of hand magic to creating original illusions, Shawn has done it all and with award winning results!
Here's a list of just a few of the projects Shawn has worked on over his career
Shut Eye – CW TV
Jeffrey Donovan (2015)
Arrow – CW TV
Stephen Amell (2013)
Fool Us
ITV UK – Jonathan Ross, Penn & Teller (2012)
Fringe
FOX TV – John Noble Joshua Jackson (2009/2010)
Spooky House
S.H Entertainment -Ben Kingsley / Mercedes Ruehl (2000)
Wrongfully Accused
Constantin Film – Leslie Neilsen (1998)
Three
MTV Productions – Edward Atterton (1998)
Police Academy the Series
FOX TV -Joe Flaherty (1997)
Ninja Turtles the Next Mutation
FOX KID's Network (1997)
In the Lake of the Woods
Hallmark – Peter Boyle / Peter Strauss (1996)
Night Visitor
NBC – Stephen Tobolowsky / Faith Ford (1996)
The X-Files
FOX TV – Gillian Anderson / David Duchovny (1995/98)
Poltergeist the Legacy
PMP Legacy – Derek de Lint (1998)
Double Double, Toil & Trouble
Dualstar Prod. – Mary-Kate+Ashley Olsen
The Highlander
David Panzer Prod. – Adrian Paul / Jim Byrnes (1997/98)
the FLY II
20th Century Fox – Eric Stoltz (1989)
M.A.N.T.I.S
Renaissance Pictures – Carl Lumby (1994)
Mercy Point
Columbia Tri Star – Joe Morton (1998)
Cousins
Paramount Pictures – Ted Danson (1989)
Nightmare Cafe
MGM TV – Wes Craven / Robert Englund (1992)
Jack's Place
ABC – Hal Linden / Finola Hughes (1992)
The Man Who Wouldn't Die
Paramount Pictures -Roger Moore (1994)
On the Road
CBC – Wayne Rostad (1996)
and countless personal appearances….
AWARDS
2009
Federation International Society of Magic
Grand Prix World Champion
2009
Federation International Society of Magic
World Champion of Cards
2008
International Champion of Magic
London, England
2006
Federation International Society of Magic
Silver Medalist (Parlour)
2006
Federation International Society of Magic
Silver Medalist (Sleight of Hand)
2003
Federation International Society of Magic
Silver Medalist (Sleight of Hand)
2003
Canadian Association of Magicians
Magician of the Year
2003
Lifetime achievement
Pacific Coast Association of Magicians
2003
Lifetime achievement
Vancouver Magic Circle
2003
Mandrake Award
Society of American Magicians #95
2001
International Brotherhood of Magicians
1st Place Gold Cups Competition (Close Up)
2001
Society of American Magicians
Close-Up Champion
2001
FFFF People's Choice Award
Original Close Up Magic event
2000
Grand Prix du Magique
Pacific Coast Association of Magicians
1998
International Brotherhood of Magicians
1st Place Gold Medal Competition (Stage)
1998
Wilf Rutherford Trophy
Vancouver Magic Circle
1997
H.B. MacLean Trophy
Vancouver Magic Circle
1996
Cecil Ackery Comedy Trophy
Vancouver Magic Circle
1996
Ray Gamble Trophy
Vancouver Magic Circle
1994
Wilf Rutherford Trophy
Vancouver Magic Circle
1992
Pacific Coast Association of Magicians
Pacific Rim Gold Medal Magic Champion
1992
Wilf Rutherford
Vancouver Magic Circle
1991
Ray Gamble Trophy
Vancouver Magic Circle
1991
Society of American Magicians
Mystic Craig Award for Rising Star of Magic
1991
Pacific Coast Association of Magicians
Stage Magic Champion
1990
Pacific Coast Association of Magicians
Pacific Rim Silver Medal Magic Champion
1990
David Culos Memorial Trophy
Vancouver Magic Circle
1989
David Culos Memorial Trophy
Vancouver Magic Circle
1989
William Shelly Trophy
Vancouver Magic Circle
1989
Charles Howard Trophy
Vancouver Magic Circle
1989
Ray Gamble Trophy
Vancouver Magic Circle
1989
H.B. MacLean Trophy
Vancouver Magic Circle
1988
Wilf Rutherford Trophy
Vancouver Magic Circle
1984
Pacific Coast Association of Magicians
Stage Magic Champion
Awards (Non Magic) 
Merel Cadenhead Award for Bravery Orpheum Kids' Club Award for Bravery  
Published works: 
BedJumpers -a lecture on magic for professionals MagiCD -an interactive CD-Rom for the general public Magic DVD -an interactive DVD for the general public Tagged -an original magic effect mass marketed for the magic community Lightening Matrix -an original magic effect mass marketed for the magic community MatriXpress -an original magic effect mass marketed for the magic community Egg, Lemon and Balloon -an original magic effect mass marketed for the magic community Bunny Knows All -Monthly newsletter for magicians – five years as editor Cover Feature -Linking Ring Magazine -Official Publication for the International Brotherhood of Magicians  
Magic Convention Appearances: 
FISM 2003 -Canadian representative for Olympics of Magic -Den Hague, Holland Texas Association of Magicians -Performer -Ft. Worth, TexasMagiFest -Performer -Columbus, OhioFlorida State Magic Convention -Performer -Miami, FloridaMagie Montreal -Performer -Montreal, QBInternational Festival of Magic -Producer/Performer -New Westminster, BCWeekend of Magic -Producer/Performer/Lecturer -Vancouver, BCInternational Brotherhood of Magicians -Opening act for convention when held in Canada -Quebec City, QBSociety of American Magicians -Producer/ Performer of "The Canadian "eh" Team" gala show -Milwaukee, WIWinter Carnival of Magic -Performer -Gatlinburg, TNWorld Magic Seminar -Performer/Lecturer -Las Vegas, NVPacific Coast Association of Magicians 2002 -Performer -Page, AZPacific Coast Association of Magicians 2001 -Performer/Lecturer -Palm Springs, CA Pacific Coast Association of Magicians 1998 -Performer -Tacoma, WATri-City Magic Convention -Performer -Victoria, BCMagicpalooza -Performer -Renton, WASmoke and Mirrors Festival -Performer -Everett, WAPacific Coast Association of Magicians 1993 -Vancouver, BCMagic Hands Convention – Schwäbisch Gmünd, Germany  
Cruise Ships: 
Disney Wonder 2011 – present Disney Magic 2011 – present Disney Fantasy 2012 – present ms Venedam ms Norwegian Star -May 15, 2004 -2010 ms Norwegian Sky -Dec 28, 2001 -May 15, 2004 ms Norwegian Dream -August 16 -2001 -October 5, 2001 ms Westerdam -Alaskan Season 1995 mv Cunard Princess -Alaskan Season -1984 -1985 ms Sagafjord -World Cruise -Alaskan Season -Caribbean Season 1986 -1988ms Vistafjord -Caribbean Season -1986  
Elected Offices Held: 
Pacific Coast Association of Magicians President 2005 -2003 -1993 Vancouver Magic Circle President 1988 -1993 Territorial Vice President of the International Brotherhood of Magicians -10 years Deputy Vice-President of the Society of American Magicians -4 years Regional Vice-President of the Society of American Magicians representing Canada -2004 -2010 President-Elect of the International Brotherhood of Magicians 2013-2014